What is CX?
The Customer Experience (CX) is an overall experience of a customer with a company, based on all interactions before, during, and after purchasing a product or service.
Why is CX considered necessary in the current business scenario?
Better campaign ROI and increased conversions: Effectively directed and managed Customer Experience strategies lead to improved customer buying experiences throughout the journey, resulting in higher customer satisfaction and acquisitions through both digital and physical points of sale..
Define — The next step in the design phase is defining the user problem once we gather the required information about the user's needs and wants.
Increased revenue from the existing customer base: Businesses can increase their revenue by investing in delivering good experiences. While happy consumers are also far more inclined to stick with the same brand and potentially upsell to a higher-value deal or product licensing.
Increasing customer recommendations: Here's a general consumer concept that most of us can relate to because we have all done it. If we like a product or service, we tell other people about it; if we don't like a service or product, we tell even more about it.
"According to a 2017 Tempkin Group study, 77% of customers who had a good experience with a product or company – recommended it to a friend or family member."

As a result, investing in providing excellent customer experiences that surpass customer expectations results in more customer accounts from recommendations.
The Four Pillars Of CX
TEAM
TOOLS
PROCESS
FEEDBACK
Team
Invest in your team development. Conduct training and education programs regularly. Build a good culture and leadership in teams that bear fruitful results for the company and help build great customer experiences.
Tools
Companies must consider stacking up necessary, cost-effective, efficient tools that can be fully utilized. Also, they should evolve their toolkit over time to meet the growing demands of customers and technology upgradation.
Process
It would be best if companies considered how to establish a distinct set of requirements for an offering process. This pillar compels you to consider how you are mapping the overall experience. How are you establishing boundaries? Who owns what? How do you delegate authority, accountability, and duty to various teams? How do you distribute responsibility across multiple offices, leaders, and employees? That is significant for your company.
Feedback
Customer feedback often provides crucial insights that enhance CX. They can provide favorable, unfavorable, or constructive insights that help businesses see patterns and learn new things.
Why should companies invest in CX?
Why should a business invest in CX? CX today is focused on a few different topics. Much has changed as a result of the pandemic. Many brands are currently considering how to invest in customer experiences.

Brands must provide a Customer Experience that meets or surpasses customer expectations. Brands that provide poor Customer Experience will not survive in this highly competitive market.

Let's find out more about why companies need to incorporate CX and how they can do it successfully:
Create a Team of SMEs: Develop a superteam of SMEs that will come together to look at problems, and assess feedback points, form and implement strategies. They are a great asset to the team.
Identify responsibilities: Companies need to identify the areas of accountability, responsibility, and authority. Individuals need to be regularly reminded of the purpose of the company. Employees must be aware of their role in serving customers. When you are the one on the ground, interacting with clients everyday, it makes a significant difference.
Invest in VOC: Voice of the Customer (VOC) is a term used to describe customers' feedback about their experiences with and expectations about products or services. It focuses on customer needs, expectations, understandings, and product improvement to have clarity, communication, and essential prioritization.
Collaborate with teams: Bring sales, operations, product analytics, and leadership teams together. When teams come together, it is simple to teach the entire squad how to incorporate strategies effectively and cater to the needs of customer experiences.
What are the key differences between UX and CX?
While UX and CX are closely related, there are still some key differences.
User Experience designers concentrate primarily on how users engage with a single product, whereas Customer Experience professionals concentrate on how customers interact with the company as a whole.
CX professionals use measures like Customers' Lifetime Value (CLV), Customer Effort Score (CES), Net Promoter Score (NPS), and Churn Rate. On the other hand, UX designers utilize measurements that consider a product's usability and how customers feel about their interactions with it.
UXer's work primarily with clients who require designing or redesigning a digital product, such as a website or app. CXer's target audience is often individuals with purchasing power, whereas UX designers focus mainly on the people who will use the service or product.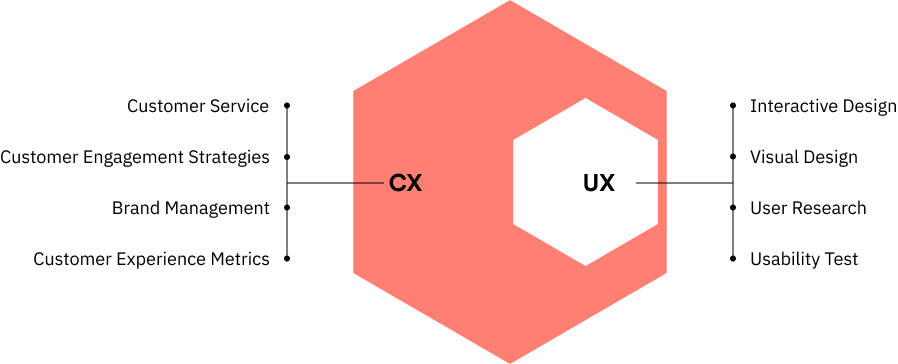 How do CX and UX complement each other?
The two disciplines can work together in various ways since User Experience is an essential component of Customer Experience. Basically, both CX and UX are focused on the customer's level of satisfaction while dealing with a brand. Both pay attention to the overall experience of the customer.
Understanding this crucial link between CX and UX can help a company's bottom line, which can be quite profitable. A company can no longer survive by just having a reliable, user-friendly product. According to research by Forrester, a well-known business consulting and analytics organization, Customers will pay more if they have a positive lifetime relationship with a company in addition to an excellent product.
A CX designer who can consider customers' feedback about their experience using an individual product is more likely to improve overall customer satisfaction than one that can't. A UX designer with knowledge of purchase habits and the customer service needs of their users can often design a superior product. Knowledge of both in each field can be extremely beneficial for a company.