Flagship UI/UX services for Edtech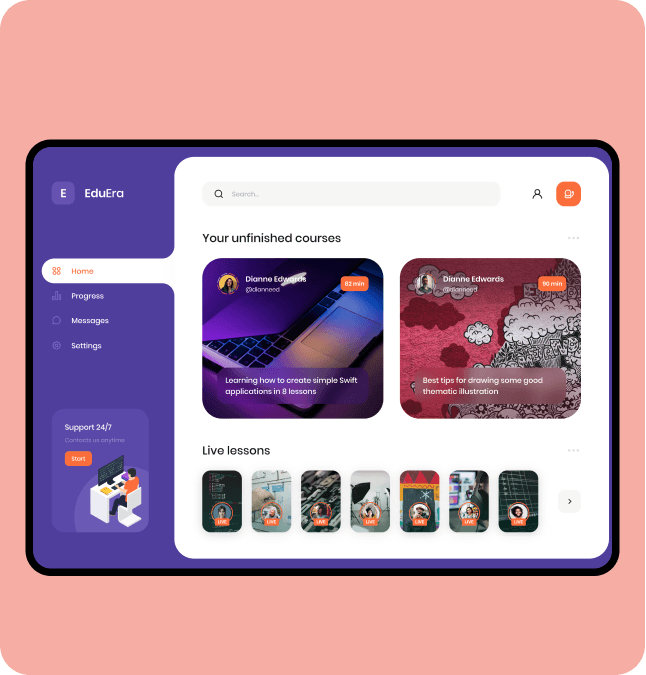 Increased Personalization
Learners can get access to the next level of personalized learning experiences that keep in mind their needs and preferences. This will ensure that the content is relevant, concise, and comprehensive. A key aspect here is customizable UI elements such as themes, color palettes and layouts that can help students select an experience that is most comfortable for them.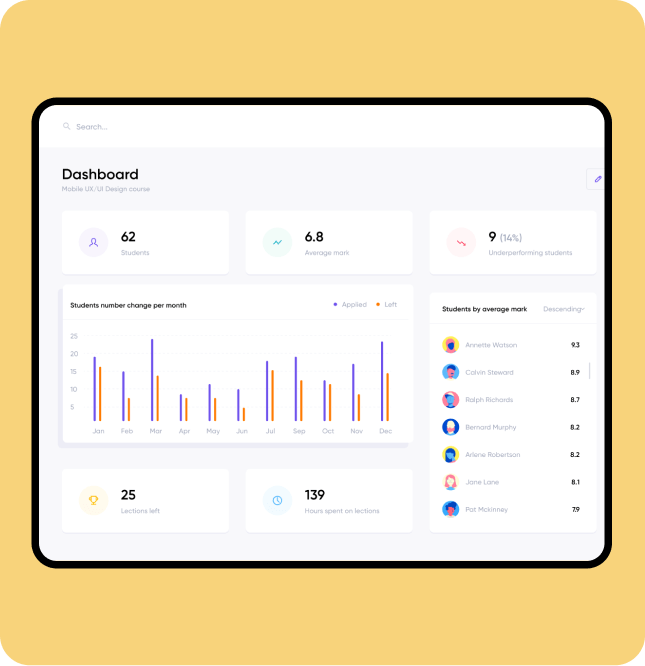 Intuitive Monitoring
There are more opportunities for intuitive monitoring and evaluation of performance data to make informed decisions on a go-forward basis. Analytics based on a learner's profile can help provide personalized suggestions for improvement with hints and tips that further improve their experience.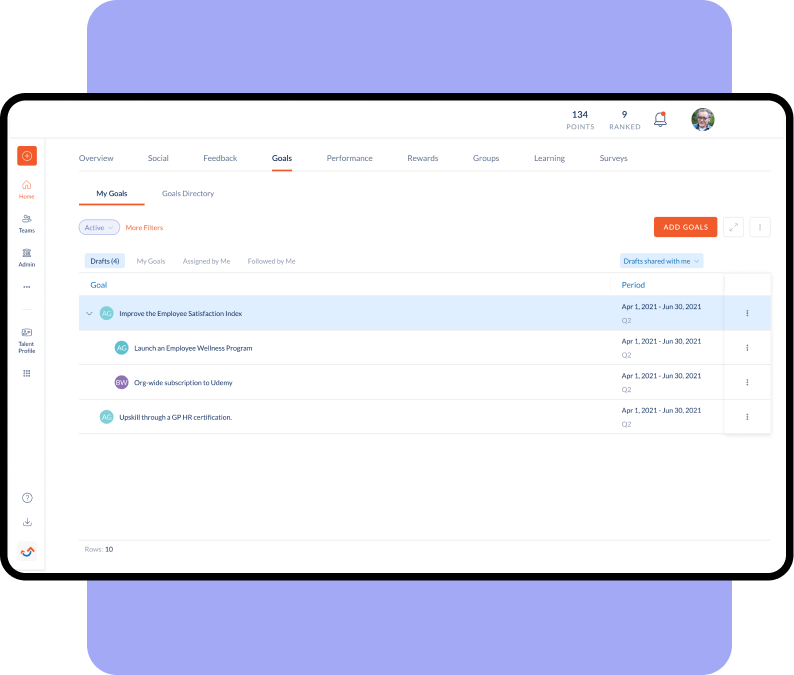 Goal-setting & Self-reflection
Providing learners with an opportunity to set specific goals that they can follow and monitor transparently helps them take responsibility for their learning process. Furthermore, UX can include key features such as informal quick-check quizzes that can help students access their learning experience. This can be key in gauging their performance and learning rate for necessary course corrections.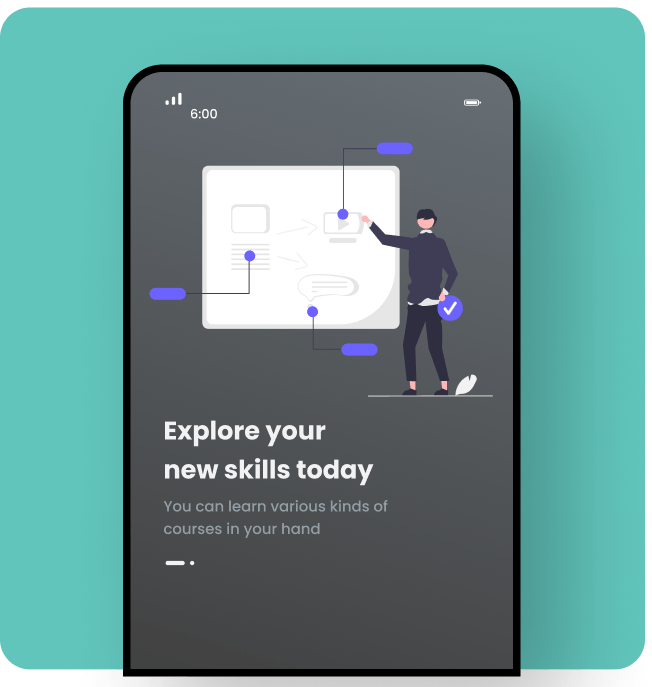 Better Productivity
Learners can also save information within the platform, like bookmarking articles to read later or creating collections of materials that they find useful. This can significantly reduce the time that would otherwise be spent on searching for relevant material, keeping them readily available for future reference.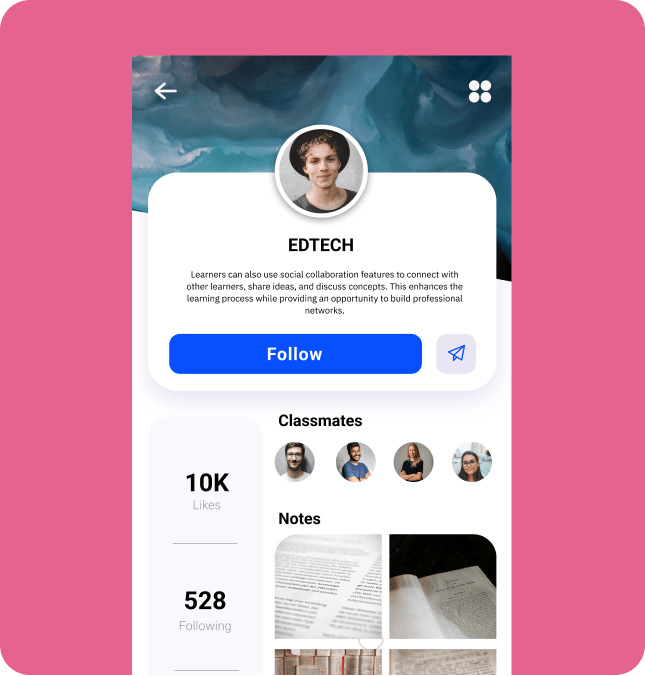 Social Collaboration
Learners can also use social collaboration features to connect with other learners, share ideas, and discuss concepts. This enhances the learning process while providing an opportunity to build professional networks. Knowledge sharing also helps learners take ownership of their learning experience while helping them contribute to the greater good.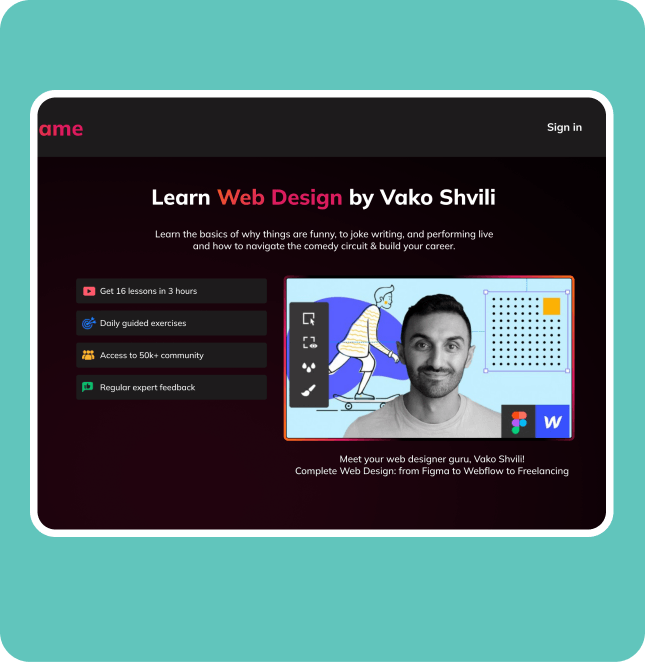 Enhanced Efficacy
The proper UX also provides an opportunity to improve learners' efficacy. It does this by providing customized tools for studying or practicing skills, making them aware of their progress over time, tracking their performance against the set benchmarks, and offering motivational rewards through gamification.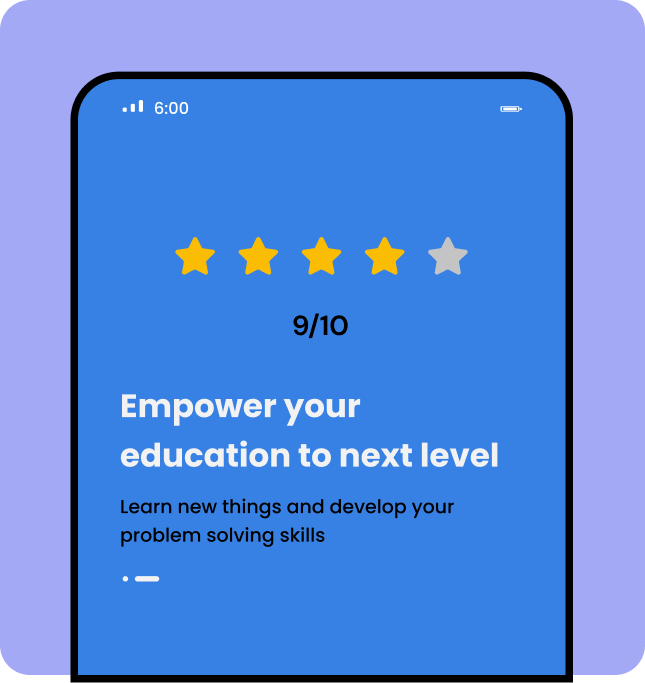 Improved Motivation & Retention Rate
Students can also earn badges and rewards for achieving goals, unlocking new levels of tools and resources, giving them a sense of achievement. This can increase their motivation level and retention rate while keeping them engaged.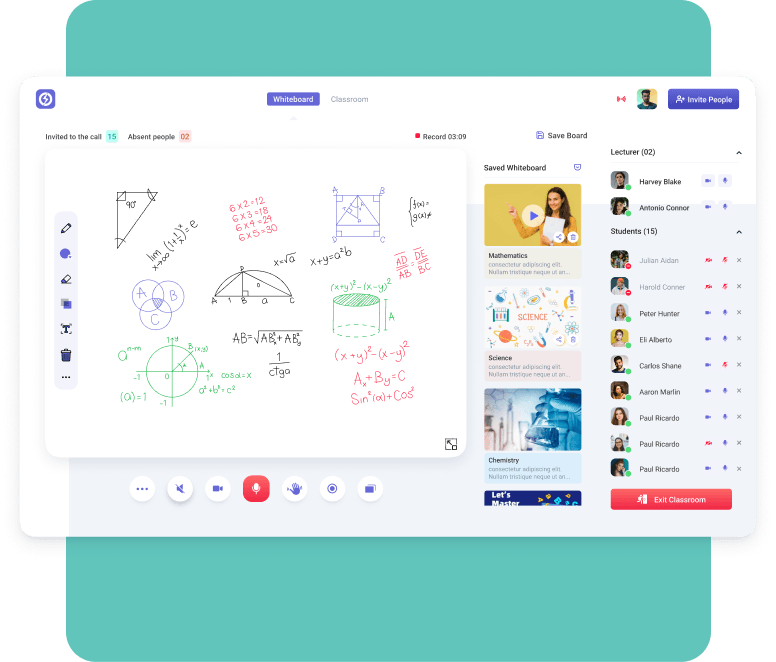 Better Understanding
Learners can also get help in better understanding learning concepts by using interactive multimedia such as simulations, scenario-based videos, and auto-generated illustrations. This helps them increase their knowledge and understanding of the core concepts at hand. Hence, students absorb the lessons faster and more effectively.
Importance of State of Design for
Improved Business Outcomes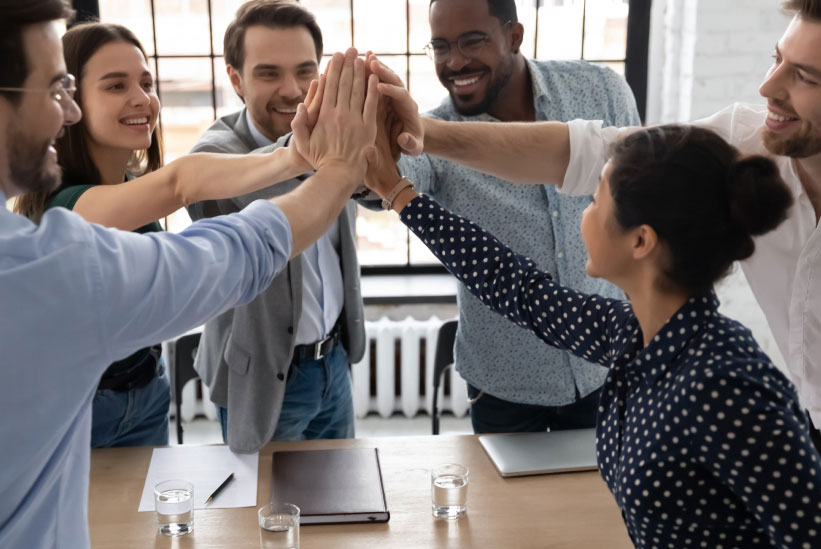 By incorporating relevant multimedia into the platform, students are more likely to stay engaged in the learning process. This leads to better retention and absorption of knowledge, lesser drop-offs in the middle of courses, and higher revenues.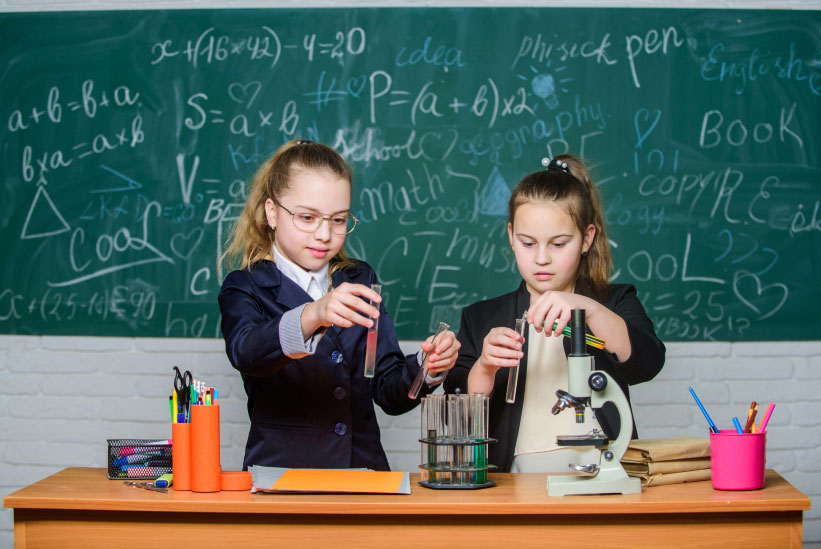 The right UI/UX design can help improve learner experience with key features such as real-time analytics, personalized media, and a gamified process. This leads to improved learning outcomes, better student satisfaction, greater motivation levels, and higher chances of course completion.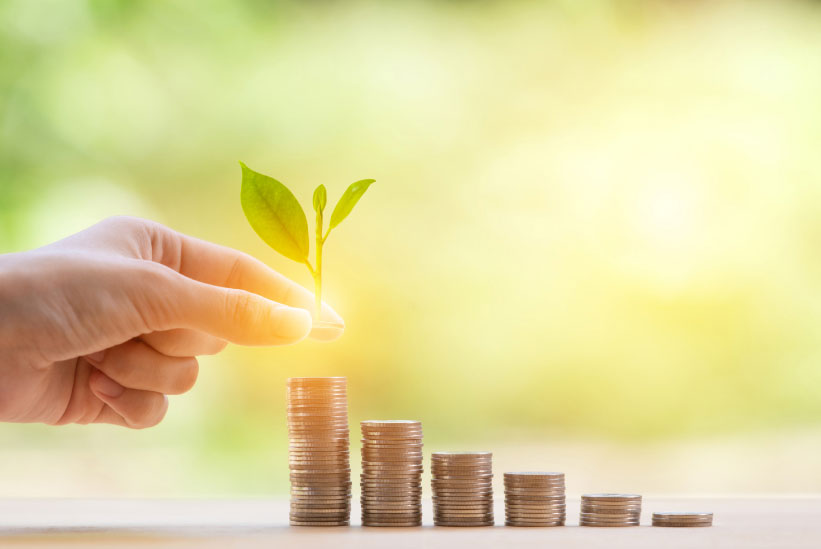 The cost of operating such a platform is also significantly lower as there is only one code base for all devices to deliver an omnichannel experience. Thus, there is no need to rewrite the code for each platform, reducing development and update costs.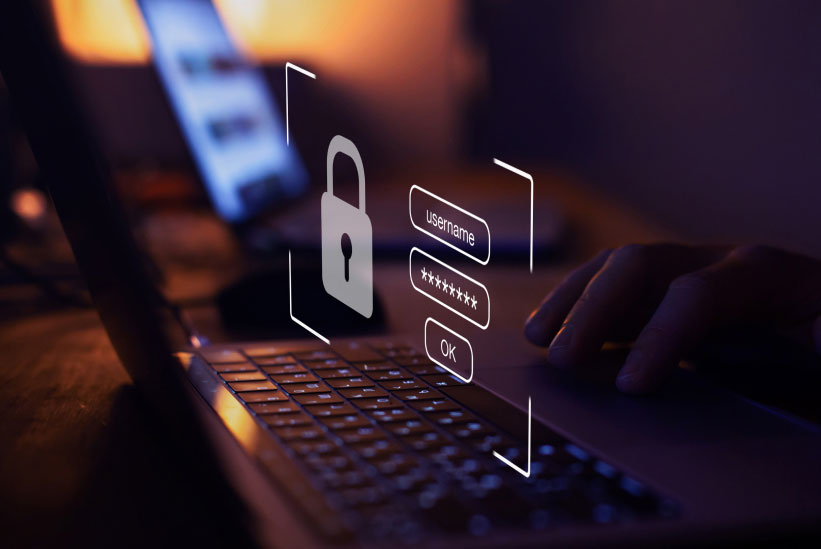 A single code base also ensures that security patches are deployed to all devices at the same time, eliminating discrepancies in data protection or product updates.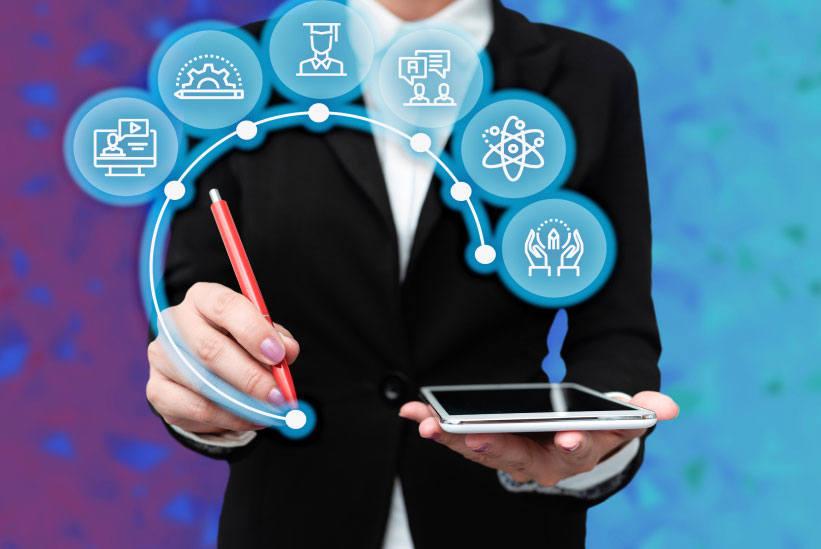 The real-time analytics feature enables companies to get insights into learner behaviors, learning patterns, and other metrics. This helps teachers and trainers deliver course materials according to the needs of each learner, leading to a win-win situation for all.
UI/UX Features and Services
in PropTech and Real Estate
Edtech UI/UX Prototype Creation
Real-time Analytics Dashboard
Personalized Media and Videos
Gamification UI/UX Elements
Animation and Video-Based Designs
Customer Acquisition through Visual Identity
Learner Requirement Analysis and Documentation
Visual Identity for Improved Brand Recall
Future Trends in UI/UX
Design for Edtech Industry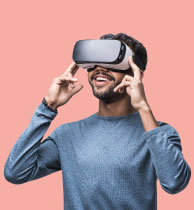 Virtual and Augmented Reality
VR and AR assimilation in Edtech is occurring at a rapid pace. As a result, businesses need to be aware of the industry-wide shift towards immersive learning environments and how they will change their products.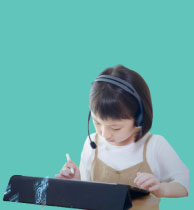 AI-Enabled Learning
As AI becomes more sophisticated, it will become a more integral part of the learning process. AI-enabled learning will allow students to learn in more personalized ways and give educators more insights into how students are performing.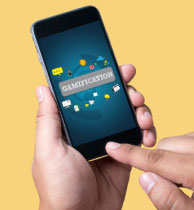 Gamification
Many Edtech platforms are also incorporating gamification elements into their products. Gamification alone can improve learning outcomes by 45.45% and 60.67% when combined with reading, incentivizing students to learn and have fun at the same time.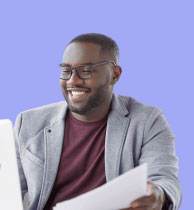 Personalized Learning
Much like gamification, personalized learning is also here to stay. This form of learning is based on the ability to adjust the learning environment, resources, and pace of the curriculum to accommodate each student's unique needs.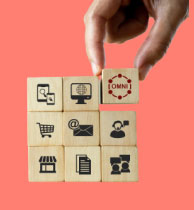 Omnichannel Experiences
Edtech platforms are also starting to see the need for an omnichannel experience. More companies are providing an integrated solution that can be accessed on any device, thus creating a seamless learning process for students.
The Edtech industry has reinvented the way we learn and consume knowledge online.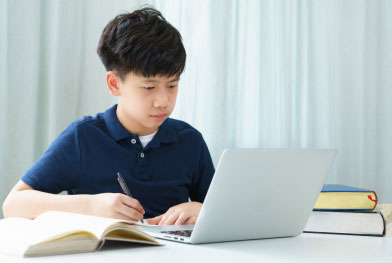 Accelerated by the pandemic, the market itself has been growing at an unprecedented pace, positioning itself to grow by a further $112.39 Billion during 2021-2025.
This new growth also brings the challenge of constantly making experiences effective and engaging for learners. This is where UI/UX can make a difference by functioning as a critical differentiating factor.
The right UX can not only cater to the desirability, usability, and feasibility of the platform but also consider the learners' efficacy.
Powered by Design Thinking, a platform can meet the needs of learners, create a collaborating knowledge sharing environment, and enhance the learning experience altogether.