What is SaaS?
Software as a service (SaaS) is a software distribution model in which a cloud provider hosts applications and makes them available to end-users over the internet. It usually comes as a subscription-based service where users pay a fixed amount monthly or annually depending on the plan chosen. In this model, an independent software vendor (ISV) may contract a third-party cloud provider to host the application. Or, with larger companies, such as Microsoft, the cloud provider might also be the software vendor.
According to a study done by Virayo, more than 80 % of businesses use some kind of SaaS application. SaaS applications run in the cloud and are often accessible through a web interface. SaaS companies benefit from the recurring revenue and can roll out new features as soon as they're ready.
How does the SaaS business model work?
SaaS is software owned, supplied, and managed remotely by one or more of its providers. SaaS companies maintain servers, databases, and software that enable the product to be used over the internet. Users can also access and use the software from almost any device. Generally, the users pay a recurring subscription fee to have access to the software.
Software installed on a device can undergo harmful interactions with other software and OS errors. In SaaS business model, users don't have to install anything to access the product features. This is why the SaaS business model tends to work better than others. SaaS is also cheaper than software sold by other billing models which makes it favourable for users to adopt the product.
Examples of SaaS businesses
SaaS is one of the three components of cloud computing. Email services that you commonly use like Gmail and Yahoo are probably the best examples of SaaS companies. SaaS is a hot-selling business model because it provides greater flexibility to the customer and every SaaS company works on specific verticals to differentiate their product from others.
Netflix
A subscription-based streaming service provider that provides online streaming of a library of movies and television series, including in-house produced original content.
HubSpot
A company that offers software products for sales, inbound marketing and customer service. The most popular product is the free CRM, which includes features like email tracking, prospect tracking, meeting scheduling and live chat.
Dropbox
It allows users to create, store and share cloud content along with traditional files. The main concept here is that it brings all your content into one place by creating a special file on your computer. All the files are kept in the cloud so no matter what device you use or where you use it, all your files remain synced and updated. It has been ranked as the most valuable start-up in the world with a valuation of $10 billion.
Slack
Slack is a business communication platform, developed for companies working with a remote team. It offers many IRC-style features, like persistent chat rooms ("channels") organized by topic, private groups, and direct messaging. The software is designed to allow everyone on the team to get a shared view of progress and purpose, and it allows you to upload documents and videos.
Zendesk
This cloud-based customer service and support ticketing platform enables representatives to more efficiently tackle inbound client requests across any communications channel — email, web, social media, phone or chat. Features include Automatic Answers (a machine learning-powered tool for interpreting and solving customer questions and requests), Zopim (a real-time chat service) and Zendesk Voice.
Brightpearl
Brightpearl's software supports operational agility, enabling companies to boost sales, reduce churn, and respond to rapidly changing markets. Brightpearl's robust infrastructure centralizes and automates post-purchase operations from inventory and order management to warehousing, fulfilment, shipping, and accounting.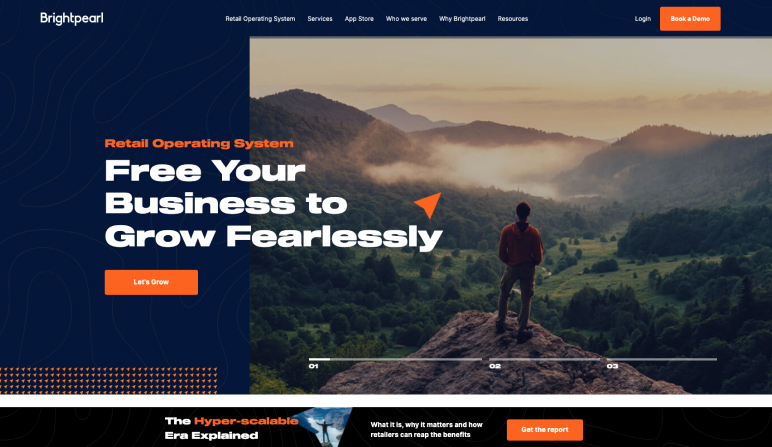 What do SaaS buyers look for?
Business is a saturated market, it is important to make your company trustworthy. To customers and buyers, time is everything. In today's fast-paced world, wasting time almost sounds unappealing. Wasting a single minute can sometimes push you completely out of the game.
Buyers are very much attracted by the efficiency of the company system. The more efficiently you set up your cloud-based computing across multiple regions, the more likely you'll catch the attention and customer satisfaction rates you need. Customers normally do not expect a system to operate across multiple regions if the service just started. Making the system accessible across multiple regions makes the system stand out.
SaaS benefits service consumers in many ways. No initial cost. No updating and maintaining fees. Access through the internet, pay-per-use pricing, and high availability is guaranteed.
What are some SAAS website practices?
Create a user journey funnel
With users being more informed than ever, it is the company's responsibility to educate and provide relevant information to the customers at the right time. Once buyers enter the sales funnel—the buying process that will bring them from lead to customer—it's critically important to qualify and nurture them along the way.
Top of the Funnel (ToFu)
At this stage, your company should have a significant number of leads. These leads are still trying to educate themselves about what the company does. Building trust with quality content in order to educate and inform will help keep them around for the long haul.
At this stage, you might want to offer pieces like blog posts, research reports, E-books and white papers.
Middle of the Funnel (Mofu)
Once your leads reach the middle of the funnel, they know they have a problem, and it's one that's clearly defined. Leads at this stage in the sales funnel aren't quite ready to evaluate vendors, but they are focused on researching all the ways they can solve their problems. You're still working on building trust with these leads, so don't go in for the sale or come on too strongly.
This stage can offer pieces like Comparison guides, Videos, Podcasts and Webinars.
Bottom of the Funnel (BoFu)
Leads in BOFU are highly qualified and should be ready to purchase. They have done a significant amount of research, have defined their solution, and have probably identified several vendors that they're comparing. With this knowledge, you can help your prospective buyer discover how exactly how your product/service can meet her specific needs and challenges – including addressing any reservations she may have about buying from you
BoFu content offered can be: Case studies, Vendor comparisons, Live demo, Trials and Consultation.
Impact of visual design in SaaS business
SaaS is a competitive, fast-paced, growing market. In simple words, if people visit your SaaS website and don't understand your service right away, it's unlikely they will want to pay for it.
A key indicator of your SaaS business's performance are its customer churn rates. Churn is the number of people who unsubscribe or stop using your software in a given time interval. Churn is an inevitable part of SaaS. A report suggests that 2/3 of companies experience a churn rate of 5% or more. A churn rate below 10% is considered to be good. Great visual design can be a fantastic way to reduce churn or keep it under control.
Using visual design you can:
Impress customers with attractive SaaS logos
Retain customers with a positive user experience on your SaaS website
The designing experience can be broken down into the following parts:
Initial research: user surveys, understanding their main challenges
Building user personas- use the research to create a fictional representation of your ideal customer.
Create user stories/scenarios/sitemap: map out the main goals and challenges of customers; what information do you include on your homepage/landing page and which can be moved to another section.
Create wireframes: basic designs of user interface
UI visual design: UX is still a prevailing concern—for example, the size and colour of a button are equally an aesthetic as well as a functionality concern.
Best practices for Information Architecture
There aren't that many well-defined rules when it comes to information architecture but some of these points can be kept in mind.
Don't lose focus on hierarchy
Hierarchy is adjustable, but where it leads to and everything in between and beyond is determined later.
All processes should be logical
Even though the IA in the UX process is for user interactions, every step of the way has to make sense.
Remember the UX process
A common mistake is to just make the information architecture without considering everything in between. It is important to look back on the process and how it went along to gain clarity on progress made.
You are the cartographer
As the cartographer, you get to decide what goes on the map based on user needs.
Information Architecture is the type of design work that is never truly done. It will always evolve based on anything from user needs to new features or a product overhaul. Most of the structure may stay the same and provide consistency between versions so that users don't get confused.
Best practices for high-conversion on SaaS websites
According to a report by Microsoft, the average human span is about 8 seconds, which means your SaaS website has less than those 8 seconds to grab the attention of the user.
Now, how can you create a SaaS website that boosts conversion rates? Let's take a look!
A SaaS website focuses on the power of attention for which every element has to come together. The landing page of your SaaS website has to effectively communicate your brand message as well as your product offering, aid the customer movement further down the sales funnel via a sales CRM and ultimately convince and convert them. The design of the layout of the website as well as the different elements need to be kept in mind along with conversion strategies.
Make your website visually appealing
Strong visual cues go a long way in having an impactful SaaS website. Use of contrasting colours, eye-grabbing graphics and visuals for directing user attention is what you are looking for. The font colour, font size and the lettering of the actual content have a significant impact on the readability. You want to be able to communicate with the user efficiently.
Focus on above the fold design
All the essential and relevant information to be conveyed to the customer should be placed above the fold. It should be accessible to the customers as soon as they land on your website. No scrolling should be necessary to reach this info.
Make the hero section engaging
The main banner which the users encounter as soon as they land on your SaaS website comprises of the hero section. This section could consist of static images, animations or carousels.
Communicate with a catchy headline
The headline is basically the shortest version of a product pitch to your customers. It should be catchy and engaging and convey what the users can do with your product. When it comes to text, less is more. Just make sure it is engaging.
Draft a compelling value proposition
Your Company's value proposition includes the selling point of your business summarized in a few lines. In one or two lines, the customers should be able to get a gist of what the product does and what they can do with the product without any uncertainty.
Social proofs in the form of customer testimonials and case studies should be an integral part of your SaaS website. It makes the user feel confident about your brand. A great way of adding a human touch to the social proofs is by adding actual pictures and videos to the testimonials and user stories.
Make instinctive navigation
A navigation bar helps smoothen out the user experience during the exploration process. Also make sure that the navigation panel although easily discoverable should not take away from the rest of the elements.
Some SaaS UX practices to keep in mind:
With the number of SaaS companies growing rapidly, so is the competition.
Here are a few tips that might help your company stand out a little more than others:
Simplify Registration Process
Registration serves as the touchpoint that provides a first impression to customers. While considering registration, make sure to only ask for the most important information.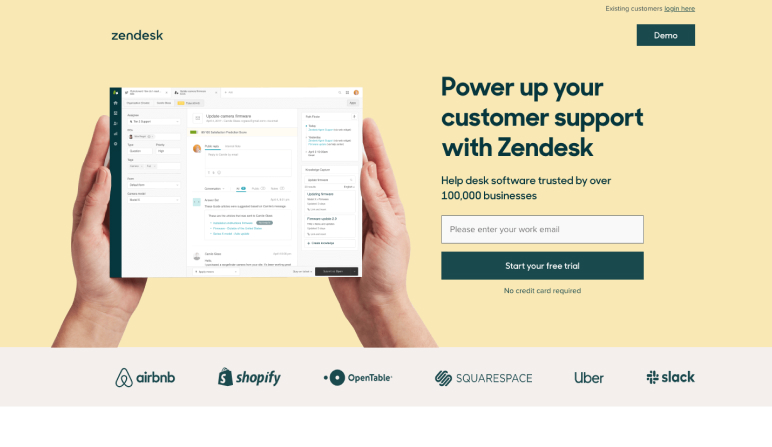 Add pictures, show off your user interface, make the customers want to know and understand more. Pictures must be easy to find so it is suggested that most of them are located on the main page.
Focus on the website structure
A website full of text, though informative, may come off as boring. Add pictures of your software, videos, graphs, animations, etc. Even a set of facts can be designed in a catchy way.
Keeping your overall design minimal will provide a more welcoming experience to your SaaS website visitors. These include- solid colour backgrounds, clean imagery and preview of offered content.
Engage through dashboards
The dashboard is the first thing visible to the user on visiting your company website. To understand the current state of users, it is a good practice to report on any KPIs that may be critical to the users' role.
Ensure that 'help' is always visible
Successful SaaS websites have a great support and help system in case users get stuck on their journey. The help system should be accessible from anywhere on the website.
Easy to find contact information
Not everyone can find every little detail of a website easily. Make sure to locate the contact details in a convenient and easily accessible spot on the website.
The key to a successful website is being able to convince, intrigue and convert those who visit. You will need more than just or an engaging content strategy for your SaaS site – you also have be consistent with updates so people stay interested in what's going on at all times!
Maintaining these five practices will not only help make sure that visitors get their fill from browsing but prove how dependable you really are as well by keeping up-to date through trends like social media integration, SEO optimization etc.