Plan for UX Research, from Goal to Timeline
The process of UX Research is complex. The procedure must be planned to benefit the most from it. Even if your research just entails a few interviews, you still need a strategy to keep it focused and productive and avoid having irrelevant conversations.

A strong research strategy will ensure that the whole team is working toward the same goals, that deadlines are fulfilled, and that the research report is appropriate to all those objectives.

Every project we work on as a design agency involves UX Research. There is no one-size-fits-all blueprint for UX Research; that much is certain. Every project requires a unique strategy. However, some common procedures enable us to organise the research and create a framework around it.

The DECIDE framework, which is covered in Preece, Rogers, and Sharp's book Interaction Design, is a fantastic resource when planning your research approach. The key steps are as follows: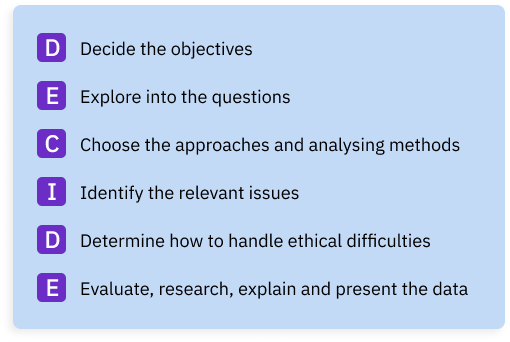 What works well for the user research method, however, might not work as well when you need to create a short, clear UX Research plan. The emphasis on ethical concerns is excellent in this paradigm. On the other hand, in a real research plan, you may need to focus more on practical factors such as money, timeline, and user database.
Analyse the current circumstances
A researcher must first thoroughly understand the topic, interview team members, and ascertain the team's method of operation. At this point, they can also examine the conclusions and outcomes of earlier studies and related research done with other products already available on the market.

This stage could take longer for a product that is currently on the market, but for one that has not yet been developed, this might take less time. Even in the latter scenario, there is always a background that must be taken into account before
the start.
Objective:
Understanding whether the User Research is effective depends on clearly defining the research's objectives.

The goal of "better understanding our users" is undefined. Of course, we shouldn't undervalue the value of having consumer empathy. Most researchers are naturally drawn to this "understanding," which is great. Even if all you did was talk to your customers and get to know them better, the research could not be labelled "unsuccessful." However, you need a clearer objective to get the most out of UX Research.

The opposite extreme is an overly "KPI-oriented" goal. "Increase income" and "Improve conversion rates" sound measurable and realistic. UX Research alone, however, cannot resolve these problems. Modifications must be made to achieve those KPIs and enhance metrics, and the suggested hypothesis must be evaluated.
Here are some examples of feasible and tangible user research goals:
What are the user flow's weak points?
What are the primary causes of user dissatisfaction?
What are the a-ha moments in the customer journey?
Budget projections:
There is no need to establish a comprehensive budget at this time. Here, our goal is to determine an approximate budget the customer will set aside for the research. The research methods and amount of users investigated will vary depending on the budget. For instance, doing an email survey can be done at a relatively low cost, while eye tracking requires costly hardware and software.

The budget has to be reviewed again in the finishing stages. We cannot estimate the actual budget until the plan is completed.
Research methods:
It is simple to become lost amid the many different UX Research methods. Fundamental research may incorporate all of them, but in most situations, combining just a few are sufficient to provide answers to the focus questions.
Profiles of participants:
The secret to success is choosing the proper participants. Before conducting UX Research, you frequently wouldn't clearly understand your target audience. Start with their fundamental qualities, such as age, profession, location, and, most importantly, how engaged they are with the product (active users/prospect users/other alternatives).

Some of these features will be irrelevant in your circumstance, while others will be important. Once you've completed a profile, determine the minimum number of participants required for each research method.
Protocol:
The study protocol includes particular rules for each research technique used. Interview questions must be phrased carefully and by the objectives.

It's a good idea to note down the beginning and end of a user interview. The brief introduction to the product includes a description of the study's purpose and goals and a projection of how long it will take to complete. The interview should close with a thank you for participating and a question or two for the participant.
Timeline:
A timetable shouldn't be difficult to create if research methods and some participants have been chosen. The issue here might be that the client's time frame for the study is less than what a researcher thinks is needed. Perhaps using a research assistant can help you save time. Another advantage of having a concise and clear UX research strategy is that it makes it possible to collaborate with people unfamiliar with the project.

How long should UX Research last? The size of each project determines the duration. According to our experience, research takes anywhere between 1 and 5 weeks. Consider the following considerations while estimating:
The length of time required for data collecting and analysis
You can have a maximum number of team members while doing user interviews and other types of research.
Time required for requirement.
Human element. People could skip or show up late for an interview during the following few days.
Make sure you prepare ahead of time, so you don't need to rush through the analysis: this is a critical component of the UX Research strategy.
Ethics:
The last component of the DECIDE framework is ethics. However, it is much too frequently forgotten in User Research plans. Should we pay special attention to ethics when asking certain users to interact with an app and tell their experience? Whatever your point of view, the general rule regarding ethics is that it is better to do too much rather than too little.
Budget:
Once every component of the plan has been completed, it is time to determine if the final budget matches the original one. When UX Research is merely a step in the product design process, there is no need to include a detailed budget in the plan; however, it is frequently helpful for researchers to be aware of the figures so they can predict costs in the future.