SaaS has become intrinsic in our eco-systems and how
In Experience Economy, businesses have zoomed in on customer experience. SaaS has become intrinsic in our ecosystems, changing how we experience business.
The use of SaaS applications has facilitated the adoption of improved software engineering techniques and made it easier to integrate the services provided by payment gateways, digital travel agencies, hospitality, lifestyle, workspace, and much more.
SaaS companies are uniquely positioned to provide great customer experiences because they can track customer interactions and data. These insights can be leveraged to improve the customer experience. Providing personalized services, resolving conflicts early on, and offering new features and benefits that customers will love, are toppers of customer experience.
Understanding Experience Economy
What is Experience Economy?
The fourth primary stage in consumer growth, after commodities, goods, and services, is " Experience Economy," which is built on selling experiences rather than just products.
Experience Economy, which was previously just a theory, is now a reality, and customer experience (CX) has become a significant focus for brands.
The need for businesses to transform in the experience economy:
Creating experiences that are
seamless
During the test phase, users provide feedback about the product design before the product is developed by the engineering team and launched to the public.
Ensuring that experiences
created are worth the price
Companies must carefully create captivating experiences that command a subscription fee if they want to benefit from experiences completely.
Leveraging technology and data
The experience economy has now fully taken hold, two decades after it first emerged, thanks to a mix of technology, data, consumer demand, and, most recently, the quick shift in consumer needs post-pandemic.
Identify products that create
unique experiences
Businesses have a fantastic opportunity to find goods and services ready for innovation and can address consumers' shifting demands and preferences.
How can SaaS thrive in the experience economy?
Experience Economy is evolving daily, driven by demanding customers and innovative practices from the most progressive organizations. Experimentation is critical to business growth and innovation in this economy, delivering high ROI to those who make it a standard business practice.

Defining Customer Experience (CX) should be considered as a first step. Customer experience is the customer's opinion of a business based on all their Touchpoints, interactions, and engagements with the company, its name, and its goods and services.

It's necessary to assess the customer experience as a whole in addition to specific touchpoints, interactions, and engagements between customers and the company to comprehend the end-to-end customer lifecycle fully.
Comprehensive end-to-end solution: B2B SaaS, sometimes referred to as business-to-business software as a service, is generally provided through a subscription. The end-user at the purchasing company may access these cloud-based services online from any location, at any time.
Reduce friction while onboarding customers: B2B SaaS self-serve onboarding helps new business customers discover how to utilize the product to seamlessly achieve their goal of success.
Versatile Pricing Solutions: Saas B2B has many pricing options that help find a perfect balance between profitability and customer experience.
Superlative customer support: CRMs are crucial for boosting customer retention and decreasing turnover for SaaS platforms.
What would the future look like for SaaS B2B
Many tedious tasks that accountants traditionally completed manually are now automated by SaaS accounting software, freeing them up to concentrate on strategy and value-adding tasks.
ERP SaaS is becoming increasingly popular as implementation gets faster and costs drop.
SaaS B2B technologies employ CRM data to improve customer experience across all touchpoints through automation and personalization.
Micro-SaaS, B2B SaaS platforms, are becoming more and more popular as customers move away from one-size-fits-all in pursuit of solutions that are tailored to their specific requirements.
B2B SaaS businesses' marketing efforts will shift to a greater emphasis on SEO content marketing.
How Omnichannel framework for SaaS B2B companies is the new equation to thrive in Experience Economy across Stakeholders
What is omnichannel?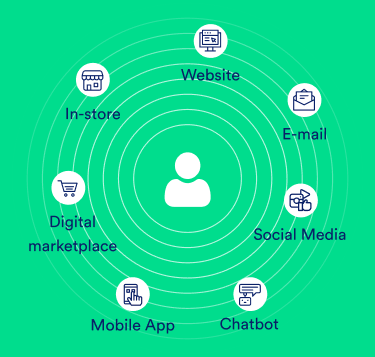 Omnichannel is a multichannel sales strategy that aims to give customers a smooth buying experience whether they're making purchases online from a desktop or mobile device or in a physical store.

In Experience Economy, everything has changed: there are new channels, largely digital; consumers behave differently and have higher expectations, and what they value has also changed.

Being omnichannel is crucial to surviving in the experience economy because it impacts the two primary variables that decide your business – your relationship with clients and the value you generate.
Let's find out why omnichannel is the buzzword in the business world
Omnichannel is a way to share growth. The more channels a sales organization deploys, the bigger the market share gains.
No matter the industry, location, size, or stage of the customer relationship, all B2B customers demand omnichannel.
More than ever, customers are eager to switch suppliers if they find outstanding omnichannel experiences.
The Customers' demands are resoundingly prominent, and they want them all, from performance assurances to real-time customer care. That's where omnichannel come's into the picture.
Over 72% of B2B companies that have adopted omnichannel strategy have achieved impressive market share.
To successfully adopt the omnichannel framework in companies, leaders should prioritize employees and clients to achieve desirable results in the experience economy.
Employees
The B2B Companies need to think of automating easy-to-do repetitive tasks, which will instantly result in employee job satisfaction. Ex: Chatbots to answer commonly asked questions.
Empower employees to take charge and drive resolution at first contact to increase customer satisfaction and retention. Empowered employees empower customers to buy again and again.
Training and upskilling employees on the latest technologies will be an advantage to staying updated.
Clients
By using a holistic approach to consider the needs of all relevant stakeholders.
Optimization of the Omni-Channel Mix and
creating seamless digital interactions and client experiences.
It is recommended to adopt a data-based vision in anticipation of the future phase of e-commerce. It will be based on algorithms created by Artificial Intelligence to predict client behavior.