Service Design is a process where designers develop long-lasting solutions and the best user interfaces for customers in unique contexts and any service providers. By segmenting services based on individuals, locations, and other criteria, designers may fine-tune solutions to fit all customers' demands.
Identify these crucial components of any service encounter to learn how to do Service Design the best
Actors (e.g., employees delivering the service)
Location (e.g., a virtual environment where customers receive the service)
Props (e.g., objects used during service delivery)
Associates (other organizations involved in providing the service – e.g., logistics)
Processes (e.g., workflows utilized to supply the service)
Use Service Design to create holistic experiences
Always consider the entire experience when designing. It would be helpful if you, therefore, considered the environment(s), barriers, motivations, and feelings of your users/customers. Here are some crucial factors to remember:
Recognize the value of your brand, the market need for it, and the reliability of all connected service suppliers.
The requirements of the customer comes before those of the brand.
Instead of supplying services piece by piece, concentrate on providing cohesive, effective services holistically.
Embrace user suggestions.
Streamline operations to increase productivity.
Prototyping needs co-creation sessions to be successful.
Eliminate anything that doesn't improve the customer experience, such as features and work processes.
Agile development can enable you to adapt to customers' shifting needs.
Ways to create delightful Service Design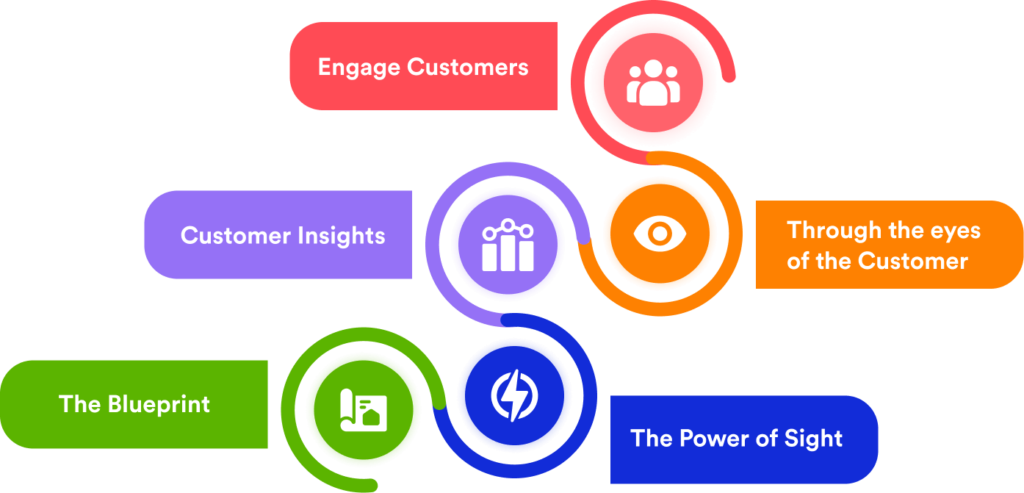 Engage customers and associate the company together
A Service Design strategy enables companies to implement new concepts more successfully, addressing customer expectations, dismantling silos, and generating profit. This technique emphasizes possible problems and offers ideas to overcome them, resulting in better assurance and higher commitment to action. This is accomplished by visualizing new ideas and customer journeys and testing with customers and staff from day one.

Service excellence is rare when a smart approach is not well executed. To establish meaningful connections between customers and enterprises, craftsmanship, the appropriate techniques, and skills are required. Service design is a robust tool businesses use to provide a new customer experience, satisfy consumer expectations, overcome internal obstacles, and maximize profits.
Through the eyes of the client
The development of services is based on people, thanks to the Service Design methodology. It gives organizations tools to design every little encounter between customers and the entire organization while assisting them in seeing the large picture from the perspective of their customers.
Valuable Customer Insights
Market research reveals what consumers like, but they likely can't explain why.

Businesses can understand their clients better thanks to service designers. These approaches, which range from in-depth interviews and observation to creative customer workshops, enable companies to understand why people often behave in contradiction to what they say and in their search for the next big idea.

As a result, the company can better create an experience that engages customers across channels.
The Power of Sight
An effective technique to explain and win support for a new idea within the organization is by making ideas visible and realistic. This approach also identifies possible problems and assists in coming up with solutions, boosting confidence in the ideas and motivation to take action.

For this reason, service designers conceptualize concepts and solutions as soon as they come to mind.
The Blueprint
Touchpoints, or crucial moments of consumer connection, are dispersed throughout more and more areas of an organization.

A service blueprint is a visualization tool that assists companies in organizing several departments to operate to create a delightful and consistent customer experience. The blueprint is a road plan outlining the customers' journey through the new service and how the company interacts with them through multiple channels. Collaboration between departments is facilitated, and their commitment to the project is increased when there is a common understanding of the new customer experience.
Test out the Experience
Despite significant research and development investments, many examples of products and services fall short with customers or in terms of delivery costs.

Service designers lower these risks by including users in the testing process from the beginning. Therefore, organizations can learn, change, and enhance concepts long before significant investments are made in technology or organizational changes.
Treating service designs in a fun way
Service designers have a wide range of creative ways to introduce this mindset into companies and are educated to operate in highly collaborative ways. Teams can go above and beyond the norm when they combine a systematic approach to problem-solving with original ways of considering potential answers. Bring some fun to the conversation because it increases the capacity for overcoming challenges and helps ambitious ideas succeed.
Service design is just as vital as product design, and as web products grow to become web services, UX designers will find themselves increasingly involved in service design.