Unless you're doing something incredibly new with the goal of disrupting the market, you're not the only one in the business. But this isn't as horrible as it sounds. There is a prevalent misconception that to outpace your market rivals, you must give clients a brand-new distinctive solution filled with cutting-edge technology and modern design. In most circumstances, all you truly need is to meet market demand and outperform the competition.

Understanding the environment of existing UX design solutions is crucial for creating a product people need and will be delighted to use. You need to know who the other guys are and what value they provide to the market, and Competition Analysis is an indispensable tool for this. A competitive landscape review can help you get useful insights, determine your product's strengths and limitations, and design winning product strategies.

In this blog article, we'll discuss how to do UX Competitive Analysis and make the most of it to help your product fly.
What is UX Competitive Analysis?
A UX Competitive Analysis is a step in the research process in which you evaluate all relevant design solutions performed by direct and indirect competitors in your domain.

The Competition Analysis involves two critical stages you must complete if you want your research to be more than a formal process and insightful UX research.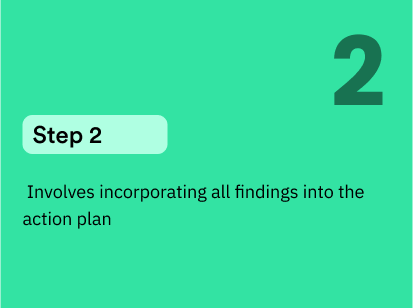 You may use heuristics assessment principles to guide your Competitive Analysis, or you can broaden the scope of the study to include everything you believe will be significant to achieving your ultimate goal.
Why should you perform a user experience Competitive Analysis?
Because you are not alone in the market. Unless you're operating in a blue ocean, your product will have a lot of competition, and some other solutions may be rather good at attracting customers' attention. To stand out in a competitive SaaS market, you must first evaluate your product's positioning and your competitors' strengths and weaknesses to plan how to win the customer war.

In today's fast-paced environment, individuals don't want to waste time figuring out how to engage with a product to achieve their goals. If their User Experience exceeds expectations, they will happily switch to a competitor's offering. The UX Competitive Research helps companies discover what they do better than their competitors (and amplify it) and where they, let's say, overlook certain critical elements that might be crucial to meet the underserved market's demands.

Additionally, learning more about the market competition will be helpful to:
Perfect your go-to-market plan
Detach yourself from the competition by clearly knowing a product's unique values
Find proof of concept for your design ideas
Enhance the product's usefulness
Learn more about the demands of your target customers
What is the right time to conduct a Competitive Analysis?
As the market is always changing, there is no such thing as the right time for analysis, and you need always have your radar up to make quick judgments. Then, as the project progresses, it would be reasonable to review the competitive updates frequently to keep on track.
How do you do a UX Competitive Analysis?
General guidance
Create a short list of significant rivals (three to five companies should be enough) and criteria for establishing specific research frames. Don't forget to include the product you designed in the list to compare to the alternatives offered by competitors.
There is always the desire to imitate the design concepts of your market competitors. Before implementing such a
technique, ensure they are employing the best practices you will benefit from adopting.
Consider indirect competitors (for example, those operating in a vertical market that you do not intend to enter soon).
Be inspired by your rivals' UX design ideas, but prioritise your users and business goals.
Steps in the process
If you are performing competitive analysis for the first time, you may utilise these stages to guide future research. They are organized logically, starting with the planning phase and ending with presenting outcomes.
Steps in the process
The goals should ideally be measurable and as detailed as feasible. It will make it easier for you to analyze the results and determine whether to continue the analysis to get the desired result.
Create a shortlist of competitors
As previously stated, beginning with three to five direct (and indirect, if appropriate) competitors is acceptable. Although some sources recommend having at least 10 competitors on the list to get extra information, ensure you did a good job with the big ones first. You can add to your list anytime; it is not fixed.
Discover what you have in common with your competition
We frequently consider distinguishing our product from similar market offerings and emphasising its unique selling qualities. However, if there are industry-recognized best practices for creating a user experience, you should not disregard them when working on UX design. Check yourself against the UI usability principles and see what your competitors are doing regarding key product features, tone, voice, page loading speed, and user interface.
Compare your products against competitors
It's time to determine what makes your product stand out from other products on the market because you now have a feature comparison. This exercise is valuable for rapidly determining where you are losing to the competition and where you are performing far better.
Assess what you learned
You've done a lot of research, and perhaps it's given you some ideas for improving your UX design. You may now identify the advantages and disadvantages of your rivals and consider how you might differentiate yourself through your design.
Present your UX Competitive Analysis
If you can't effectively communicate the insights you uncover throughout your research, no matter how relevant the facts you discovered during your study may be, they will be meaningless. Prepare a short slide deck with the major ideas supported by compelling evidence. Describe the results of your research's effect and suggest a course of action.
Research methods
Although we're discussing design, conducting a UX competitive analysis might benefit from using basic marketing research techniques.

Here are some marketing strategies you might apply to your research: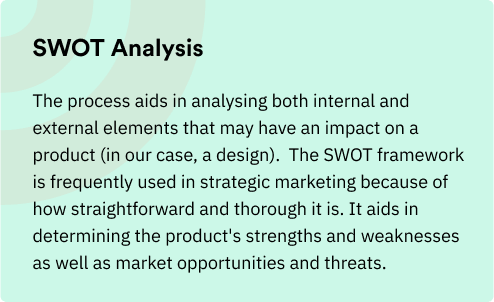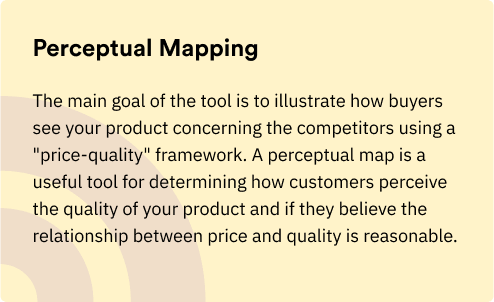 A competitive examination of UX pitfalls
You could ask, "What could go wrong with a competitive analysis?" One of the most serious issues is that you can outperform competitors. But that's fantastic! You may reply. Actually, no. Healthy market competition is a significant motivator of innovation.

In a world where restless creative minds always produce something new, it's critical to research the competitive environment before starting work on a product's design. Your complete UX competitive analysis can provide insightful information that will encourage you to develop effective design solutions.