What is Brand Experience?
Brand experience is the sum of all experiences, thoughts, feelings, and responses that people have in relation to a brand. Brand experience is not channel or media specific. Rather, it is the result — or the lasting impression — that someone has after experiencing or interacting with a brand in any situation.

The digital world became the dominating customer environment with the transition to online purchasing during the COVID outbreak. And, in 2023, e-commerce will continue to grow – online sales will climb by 60.5% over 2019. To succeed, you must create a consistent brand experience across all channels. That means you'll have to replace some of the natural in-person interactions with strategic digital interactions.
Importance of Brand Experience
Positive brand experiences foster deeper relationships, motivate audiences, and eventually deliver outcomes. When choosing one brand over another, a pleasant brand experience often makes the difference between winning the sale and losing it. As a result, it's simple to understand why companies go out of their way to create memorable brand experiences.

However, it is critical to establish a consistent brand experience as a basis for dazzling and stimulating interactions. The world's most valuable brands understand that brand consistency fosters long-term customer connections and enhances brand awareness.

Some businesses make the mistake of concentrating all of their efforts on a few great experiences while ignoring the investment in consistency.
Best practices for creating a great Brand Experience
A strong Brand Experience demands strategy. Before anything else, marketers must ensure that they understand the goals and needs of their target customers. Only then will businesses be able to create real, meaningful, and unforgettable experiences for their target audiences.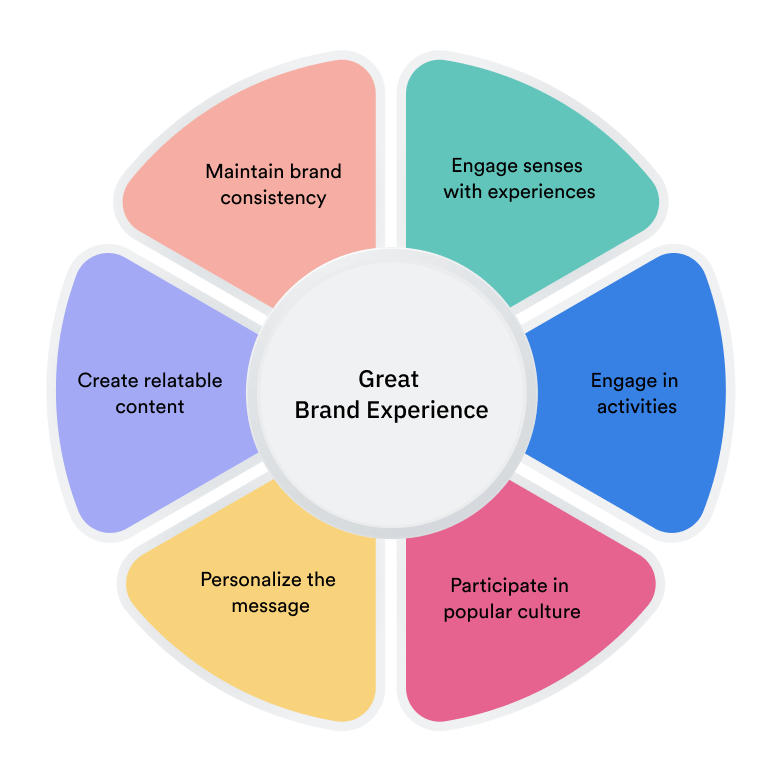 Engage senses with experiences
Senses and experience go hand in hand. Synchronize the two in a symbiotic way, and the brand experience will benefit. Fortunately for marketers, several methods are available to them, including producing a wide range of successful product content. For example, 360° spin photography may offer your customers the impression of picking up a product and spinning it around in your hands, increasing conversion by up to 47%.
Engage in activities
Through sensory appeal and longer exposure, events are an excellent approach for businesses to gain audience attention and loyalty. Organizations create impactful brand experiences by incorporating their brand into an event that their target market cares about – or by hosting their own.
Participate in popular culture
Although it is based on a certain time, popular culture provides limitless opportunities for companies looking to engage with their customers through brand experience. However, precise timing and attention to detail are required for execution. When done correctly, it may be quite effective.
Personalize the message
While companies must figure out how to convey their narrative; they must also figure out how to become a part of their customers' stories. Marketers may achieve both of these objectives while also gaining the confidence of their customers by stressing customization in their brand experiences.
Create relatable content
In the digital era, brand experience is not just limited to one channel. Brands should leverage both offline and online channels to market their products. Be it social media, events, ads, email, messenger apps, or direct customer communication. Companies should create content that appeals to their audiences' senses and personal narratives.
Maintain brand consistency
Organizations that wish to provide their audiences with powerful brand experiences must have the right elements in place. They require digital assets such as pictures, videos, and marketing collateral to support their efforts and guarantee that their brand's image and values are maintained across all platforms and circumstances. Business needs the correct digital asset management (DAM) software to achieve omnichannel brand consistency. You can create a seamless and pleasant brand experience at every touchpoint by using a DAM system to store, manage, and distribute your brand assets.