Recently, a new type of software has come up that automates the most mundane tasks. These are known as Low-code/No-code platforms. Easy drag-and-drop technologies are used to implement programs in hours or days rather than years or months. Furthermore, they enable non-developers to deploy digital products without writing a single line of code.

Although these platforms claim to reduce a large portion of the development work, many users find them difficult to understand and put into practice. Therefore, the UI UX takes centre stage to guarantee there are no communication or viewpoint gaps and to give a straightforward and understandable User Experience (UX).
Challenges of designing a low-code/no-code platform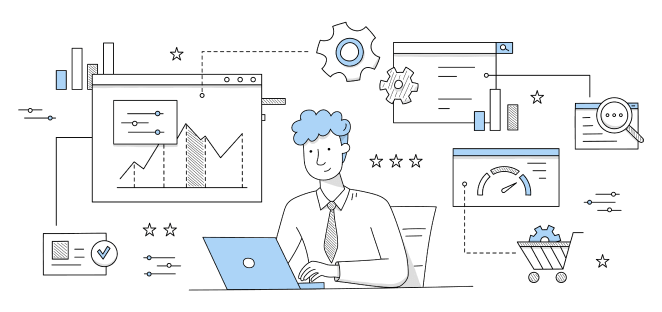 However, creating a low-code/no-code platform UX is a difficult task. Designers will face several problems sooner or later. Let's look at some of these challenges and how to overcome them:
Maintaining simplicity while adding sophisticated features
Users may move from concept to launch in a matter of hours or days using no-code/low-code platforms. The task is completed more quickly because no real coding is involved, but testing and quality assurance must be done in less time. Additionally, for non-coders or newbie customers, employing complex capabilities like conditional business rules, decision trees, interaction with third-party services, etc., may prove to be a nightmare.

Solution: Maintain an intuitive and simple user interface while emphasising the complex functionalities. The objective is to shorten development periods and learning curves. Consider using simple information cards describing every feature's role in relation to how the user interacts with the platform.
Inadequate UI element scalability and reusability across devices
A low-code platform might wind up with hundreds of small UI components spread across several devices. This implies that there should be uniformity among displays, such as landing pages, login screens, payment screens, etc. This is a design challenge since, to maintain a consistent end-user experience, even the slightest modifications to one element needs to reflect across all screens.

Solution: Any low-code/no-code platform must maintain a design framework to guarantee that the UI elements are adaptable and reusable across all apps launched on the platform.
Making a distinction between primary and auxiliary UI components
In low-code/no-code platform designing, resisting the impulse to include every possible feature or functionality is a constant issue. Rather, you must pay close attention to what you want people to gain from the design. Every element should have a purpose and move the user closer to their objective without overloading them too much.

Solution: Remember that less is more while designing for low-code/no-code platforms. The emphasis should be on simplifying the experience so that customers can take away what they need. Introduce new features only when they are needed to solve a specific problem or for competitive differentiation.
Facilitating quicker user adoption
An intuitive user interface and user experience help to increase user engagement and lower support costs. This can be achieved by enabling quicker onboarding, training, and adoption. However, consumers of low-code/no-code platforms could be less tech-savvy clients from a range of sectors. As a result, the adoption in this situation mostly depends on how soon users can grasp the platform's purpose, benefits, and justification for adoption.

Solution: When creating the platform the end-user should be involved early in the decision-making process. The designer must interview end-users and perform user surveys to understand the different use cases.
Facilitating quicker user adoption
Mobile devices have been available for a long time, yet many businesses are still unsure of the optimum design for their mobile apps. Platforms with low or no code are also affected by this problem. In addition, various organisations and customers have varied demands, which will probably translate into particular requirements for mobile apps.

Solution: Continue to conduct research! Before creating the mobile UI UX, create a thorough profile of your target audience. This will help you understand their demands and pain points and enable you to create a platform that properly suits them. Remember that the mobile and desktop experiences must be consistent.
Keeping loading times under control
Low-code/no-code development environments must function well since they are often used to build business apps. Opening the platform and making adjustments on the fly shouldn't take more than a few seconds. Another difficulty that the creators of such platforms could have is that they need to consider several things, including the size of the program and the number of elements that will be presented on a page.

Solution: Focus on providing a lightning-fast user experience as the solution. Only load what is necessary, and make sure that each UI component is designed efficiently. Additionally, pick the appropriate technological stack to guarantee that your design is delivered on schedule.
Designing for geographically specific audiences
Low-code/no-code platforms are used by businesses of all sizes and in various locations; therefore, there will be a diverse group of users with a range of backgrounds and interests that share a common set of objectives. As a result, the design needs to be adaptable enough to meet these various demands.

Solution: Pay close attention to how the platform has been localised. Customer surveys and feedback sessions can be used to get input from end users. Before you complete the translated version of the app, solicit their feedback on what works best for them.
Using data to improve user experience
Building a low-code/no-code platform without any data is like building a home with an incomplete plan. Instead, platform designs should be able to tap into current data sources to obtain a sense of what customers need, the challenges they are experiencing, how to effectively solve these issues, and so on.

Solution: Whenever possible, base the designs on data. To learn more about the users, take advantage of the data analytics technologies already in place. Also, leverage AI-based platforms to comprehend user behaviours and create a design process that considers them.
Getting everyone on board
Designing an app is only one component of a low-code/no-code platform's user experience. It's more like generating a plan that the entire team must adhere to when producing the product. Maintaining consensus throughout the design process may be difficult due to their size, particularly for business platforms.

Solution: Ensure that appropriate sign-off procedure are in place. Additionally, employ proper collaboration tools to ensure that your staff is always on top of things.
Maintaining relevance
When creating a low-code/no-code platform, keep the future in mind. So, what can you do to ensure that your platform remains relevant for years to come without requiring major changes? Designers must think about how people will engage with technology in the future. They must also be forward-looking and consider potential new technology.

Solution: Participate in cutting-edge technologies like AI and machine learning to keep your platform current for years to come. This will assist you in creating a platform that easily adapts to brand-new technologies as they appear.
Keep in mind that outstanding design is always evolving. If you are hesitant to develop and experiment with new tools, you will miss out on future prospects. Similar to this, if you stick to a single technology and neglect emerging ones, you can discover that users are no longer interested in your platform.